Santa Fe is a fascinating cultural melting pot, packed with history, character, and experiences to suit every taste.
We've assembled our own list of the best walking tours in the city and, unlike other publishers, we don't receive commission and we have no commercial relationships with any providers. This leaves us free to recommend only what we ourselves would use.
Let's get started:
New Mexico History Museum Guided Tours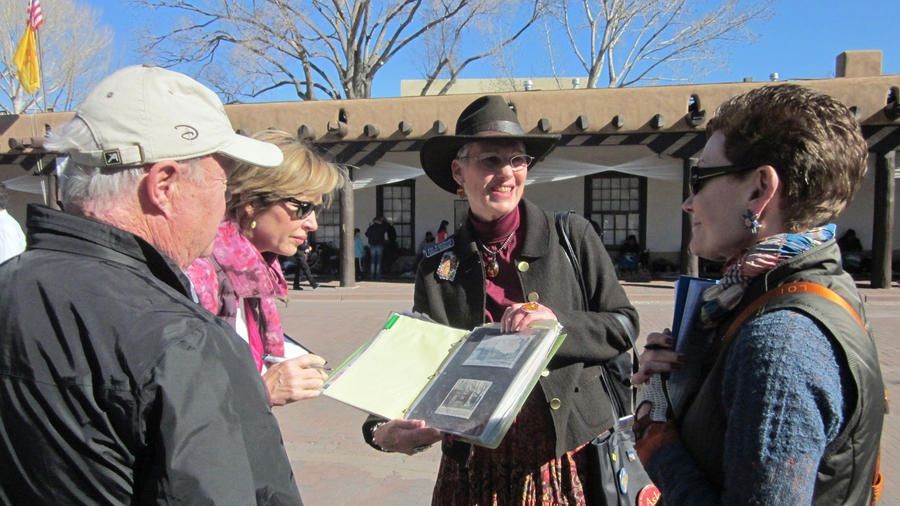 Ever noticed the recycled rifle barrels in a certain window of the Palace of the Governors? Wondered where the Manhattan Project scientists learned of their new posting? Picked out the Victorian architecture among the Pueblo Revival on the Santa Fe Plaza? Learn those facts and more on a downtown guided tour led by the New Mexico History Museum/Palace of the Governors guides.
The tours typically operate from mid-April through mid-October, Monday-Saturday, beginning at approximately 10 am. It's important to check ahead because dates and times are subject to change.
Gather at the Palace Courtyard's Blue Gate just south of the History Museum entrance at 113 Lincoln Ave. The cost is $15. Children 16 and under are free when accompanied by an adult. Museum guides do not accept tips. (No tours are offered on Saturdays when large events are held on the Plaza, such as Spanish Market and Santa Fe Fiesta.)
Each tour lasts about 2 hours and features a leisurely pace with plenty of opportunities to ask questions. Enjoy stories of the people and events that have made Santa Fe a world-class tourist destination.
Los Compadres del Palacio, a support group of the New Mexico History Museum, operates the program with guides who are trained in Santa Fe history. Many are also guides at the History Museum and Palace of the Governors. Proceeds from the tours benefit the museum's programs and events.
Special group tours can be arranged by calling (505) 476-5200.
The History Museum's blog takes you on a virtual version of a tour. Check it out by clicking here.
The New Mexico History Museum is the newest addition to a campus that includes the Palace of the Governors, the oldest continuously occupied public building in the United States; Fray Angélico Chávez History Library; Palace of the Governors Photo Archives; the Press at the Palace of the Governors; and the Native American Artisans Program. Located at 113 Lincoln Ave., in Santa Fe, NM, it is a division of the Department of Cultural Affairs.
Santa Fe Discovery Walking Tours
What sets this operator apart is the extensive depth of experience of its guides. The tour is excellent for visitors seeking insight into Santa Fe's key historic landmarks and culture.
Tours last approximately two hours (comfortable footwear is recommended!) and take in Loretto Chapel, Cathedral Basilica of St. Francis of Assisi, the Plaza, and more.
The experience begins from the concierge desk of La Fonda Plaza hotel. Adults pay $16 and supervised children under the age of 12 go free. Both walk-ins and reservations are accepted. Phone no.: (505) 577-7645.
Historic Walks of Santa Fe
Historic Walks of Santa Fe (HWSF) have stood the test of time and continue to operate excellent and insightful tours today. Their longevity is a testament to the quality and standards upheld by experienced guides.
Downtown tours can be reserved in advance at (505) 660-8199 and walk-ins are also accepted. The starting point is the Plaza Galeria (next to the Santa Fe Visitor Center). Groups of three adults pay $18 pp and groups of two pay $25 pp. Children under 16 go free. Prices include the cost of entrance to the Loretto Chapel.
Tours last around 1 hr 45 min and are available March through December. HWSF also provides tours that start off from popular hotels (Hilton Santa Fe, Eldorado, Hotel St. Francis).
For The Foodie (Wander New Mexico)
Wander New Mexico's tours offer a fantastic blend of culinary immersion and historical insight. A relative newcomer, this operator is no slouch and the experiences they offer are already acclaimed by customers.
Prices range from $69 pp to $119 pp. However, it's worth noting that tours include several stops for food and wine tastings, the cost and gratuity of which is covered in the price.
WNM guides are adept at weaving cultural and historical context into their food tours and guests generally get a chance to take in sites including the Cathedral Basilica of St. Francis of Assisi, the Plaza, Palace of the Governors, and more.
Phone no.: 505-395-0552
Enjoy your visit!