Thursday, May 19, 2016, The Run for the Wall motorcycle riders for the southern route came through Deming, New Mexico, and we were on board to capture the event.
Riding for those who cannot, the group begins their cross-country journey in San Diego, California, and rides from May 18 – May 28, 2016, to arrive at the Vietnam Veteran's Memorial Wall in Washington DC. An estimated five-hundred riders came through Deming on their way to the wall and it is believed that they will pick up as many as five thousand riders as more join the procession in route to DC.
While in Deming, the participants stopped for gas and convenience as they converged upon the small area Petro Truck Stop. Spread along I-10, area Veteran's groups, friends and fans waited anxiously for the group to meet the estimated two o'clock arrival (though it was around five p.m. when they finally rolled in). Cheers and flags ascended into the air including the American, POW and Foreign Legion flags.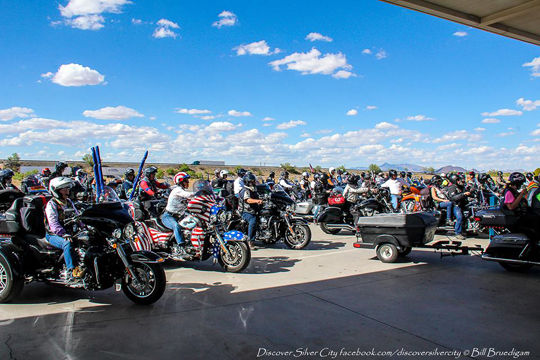 There were all manner of motorcycles as well as riders from all over the country and all walks of life.
The group stayed at the Deming location for about an hour and a half before moving onto Las Cruses to attend a cookout and other festivities as well as to rest for the night.
Watch the video, shot by Brent Hall, on location:
Founded in 1989, the group is now making its twenty-seventh annual run.
Their motto is this: Dedicated to Prisoners of War and Missing in Action, We ride for those who can't.
Mission Statement: To promote healing among ALL veterans and their families and friends, to call for an accounting of all Prisoners of War and those Missing in Action (POW/ MIA), to honor the memory of those Killed in Action (KIA) from all wars, and to support our military personnel all over the world.
Philosophy: They strive to maintain a safe, supportive and private atmosphere in which each participant can reflect and heal during their journey to the Vietnam Memorial in Washington, D.C. and in the hope that each can return home to a new beginning.
Goals:
To guide the participants across America.
To educate future generations as to the importance of accountability in wartime actions emphasizing that no one should be left behind.
To find out more information about the Run for the Wall visit their website at
www.rftw.us
Past & Upcoming Dates (Run for the Wall in New Mexico):
Friday, May 17th — Angel Fire, NM (2018)
Friday, May 18th — Santa Fe, NM (2019)
2020 Event Cancelled