Once leaving Espanola, New Mexico, on New Mexico Highway 285, through the canyon and cliff-lined road, traveling on north toward the Colorado border along the Rio Grande Rift, the drive offers a view of the high country from atop the Taos Plateau.
Little known and less driven, this highway trip is vested with some of New Mexico's most prime views. The drive is approximately eighty-five miles from Espanola to the Colorado border.
Past Espanola, the highway takes you careening among striking red cliffs and canyons. On this segment of the journey, you'll find numerous hot springs, for which New Mexico is globally famous.  This includes popular resort location Ojo Caliente. As typical of local design, bright exteriors light up cafes and restaurants in the traditional manner.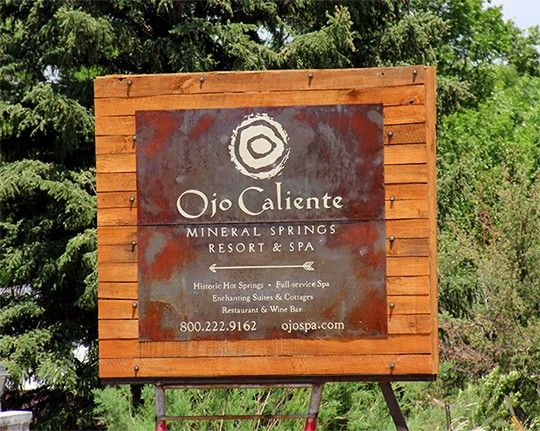 Tucked away on a secluded road is the hot springs resort, also named Ojo Caliente.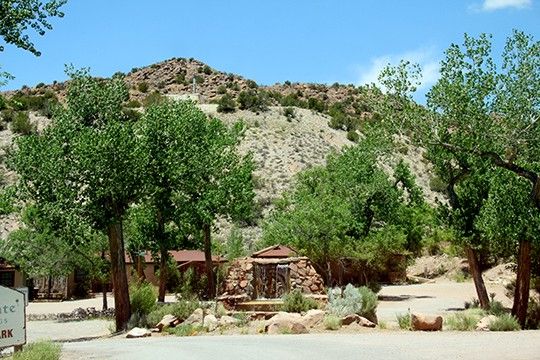 Vintage adobe buildings and small dwellings sit side by side with the pleasant resort. It isn't necessary to book accommodation in order to enjoy the spa.
Traveling on further north,  leaving the cliffs and canyons, the road begins to climb as you drive to the top of the Taos Plateau. Though in Taos County, this is not on the highway to Taos but rather west and parallel of it with an expansive view of the entire mountain range from Santa Fe to the Sangre de Cristos and Red River area and north to Colorado. This drive offers one of the most scenic views of these mountains anywhere.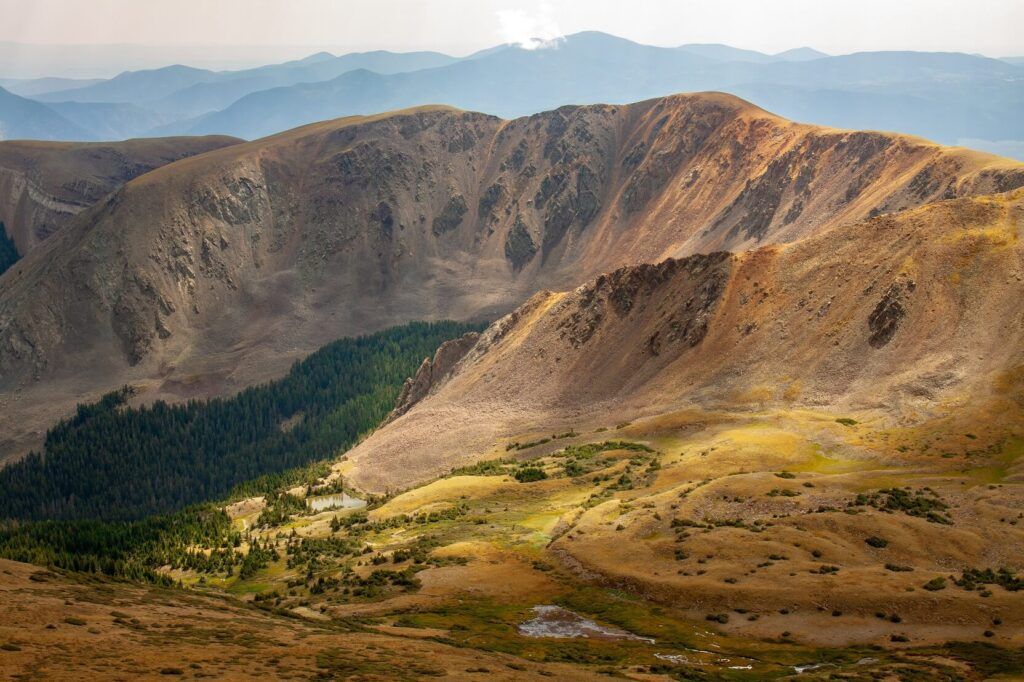 The terrain along highway 285 itself is scruff made up mostly of sagebrush, juniper, and pinon which fills the otherwise empty miles. Among a few small housing communities, the only stop of any size (and that is small) is the village of Tres Piedras.  With a population of only one thousand, the village sits at just above eight thousand feet.
Just north of Tres Piedras is San Antonio Mountain. According to the New Mexico State Wildlife Department, "Rising 10,908 feet above surrounding sagebrush flats, impressive San Antonio Mountain is the largest "free-standing" mountain (not part of any mountain chain) in the continental United States. The mountain's rounded volcanic dome, nearly four miles across at the base, is a landmark that's easily spotted from many locations in northern New Mexico and southern Colorado."
The last stop on this journey is Antonito, Colorado, just about four miles across the state border, home to the other end of the Cumbres & Toltec Scenic Railroad which takes a sixty-four-mile journey through the wild and beautiful scenery of northern New Mexico and parts of southern Colorado. The train trip may be taken from either end, Chama or Antonito. Their motto is next stop, 1880.
Watch their video for more info:
Services in town are limited. Walking into the classic travel stop in Antonito was like a step back in time as Johnny Cash played on the radio and a stout pot of coffee waited on the back café's counter. With one travel station in town, it may be advisable to gas up unless you are turning eastward and going on to Alamosa where full services are available. We, however, needed to gas up before we traversed on to the next step in our journey, at Fox Creek, Colorado.
Whether you are coming or going on 285, it is a remote drive that is a must-take on the scenic backroads of New Mexico. It's only out in this exquisite expanse that one gets to fully absorb the rugged wonder of a state so beautiful, sparse, and mysterious.
Resources:
Accommodations in Antonito include Rainbow Trout Ranch and the River's Inn & Swiss Cottage (Bed & Breakfast).
References:
http://www.wildlife.state.nm.us/