Abiquiu Lake, run by the U.S. Army Corps of Engineers, sits at an elevation of 6400 feet, surrounded by pinon and juniper, between the Sangre de Cristo and the San Juan Mountain ranges of northern New Mexico.
The region, also known as Piedra Lumbre (Spanish for shining stone), is reminiscent of days and peoples long gone, yet still remains as peaceful and magical as it likely ever was.
The lake shimmers in the afternoon sun as ravens fly overhead and boats drift across the still water. Just to the southeast of the lake is the famed Georgia O'Keeffe Mountain that she so often painted in her beloved nearby Abiquiu home. Perched high above the blue waters, at the Riana Campground, the view of Abiquiu Lake and the surrounding mesas and mountains is breathtaking.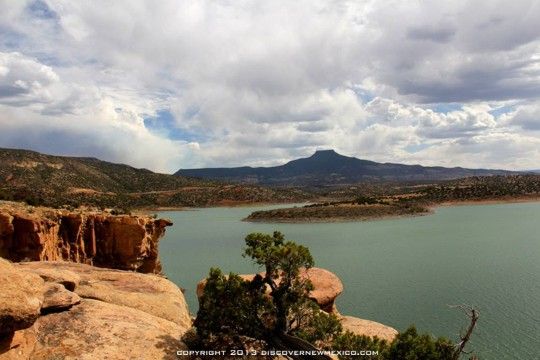 The Riana campground check-in was easy and the camp hosts were exceptionally friendly, helpful, and very knowledgeable of the area. The sites are spacious and a decent distance from one another with electricity and water. There is a sewer dump nearby in the park. All sites have grills and shaded picnic tables.
Bathrooms with showers are located at the back of the campground. The current site fee as of this writing is only $16 per night. There are only 13 sites with water and electricity so, in busy seasons, reservations might be suggested.  Developed yet primitive sites and tent sites are also available.
Though the lake is accessible via a long hike, it would be best to drive around to the boating, swimming, or fishing areas. The 150-foot bluff that the camp sits upon above the lake provides an outstanding panoramic view in any direction. Photo opportunities are amazing and will not disappoint whether you are a seasoned pro are a fun-loving amateur photographer.
One of the most intriguingly unique getaway spots in northern New Mexico, Abiquiu Lake beckons you to come and explore its ancient grounds just below the hidden mesa-topped shores.
Note: Facilities in the nearby village of Abiquiu are limited. There are one gas station and general store on the main highway not too far from the lake entrance. Advise to stock up and gas up.