Petroglyph National Monument protects one of the largest petroglyph sites in North America, featuring designs and symbols carved onto volcanic rocks by Native Americans and Spanish settlers 400 to 700 years ago.
These images are a valuable record of cultural expression and hold profound spiritual significance for contemporary Native Americans and for the descendants of the early Spanish settlers.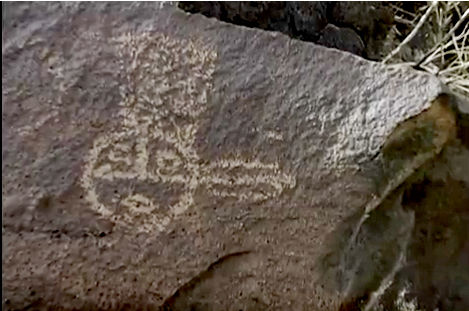 Located just off of I-40 on the western side of Albuquerque, Rinconada Canyon offers up to 400 petroglyphs in just over a two-mile hike round trip. The petroglyphs are spread out through the area. There is a magical feeling knowing that you are standing in a place where ancient people stood and left messages for us in the stones. This land is sacred to both contemporary and ancient Native Americans and you will also find a few Spanish depictions scattered about as well.
It is interesting to note that this ancient world is surrounded by suburbs at the edge of a thriving, bustling city. The park is protected though as a national monument and is well-preserved.
It is an excellent photo op so be sure to bring your camera. Take water and wear sturdy shoes or hiking boots. A hat may be advisable in summer as there is no shade. The park has easy access from the highway and there is a visitor's center with maps.
Canyon Trail
You can also follow Boca Negra Canyon. This is the monument's only fully developed area. Restroom facilities, shade, and a drinking fountain are provided for your convenience. A wheelchair accessible view scope is available on the patio adjacent to the restroom facility.
Boca Negra Canyon is a 70-acre section of the 7,236 acres within the monument boundaries. Approximately 200 petroglyphs can be viewed here. The three trails offer a diverse view of the cultural and natural landscape within the monument.
Petroglyph National Monument is a day-use park, which means the visitor center and each of the trailhead parking lots closes at 5:00 pm. Visitors are allowed to hike the trails at the Volcanoes Day Use Area, Rinconada Canyon, and Piedras Marcadas Canyons from sunrise to sunset by simply parking outside of the gated parking lots.
Visitor Center
Although we suggest that all visitors make their first stop at the visitor center, it is important to know that there are not any petroglyph viewing trails at the visitor center. (If you are being dropped off at the visitor center, please ask the driver to wait for you since you will need to be driven to the actual petroglyph viewing trail system of your choice.) The visitor center is located at the intersection of Unser Blvd. NW at Western Trail. Please click on the "Directions" link to find the correct driving directions and GPS waypoints to the visitor center since it does not have a physical street address.
While at the visitor center, park staff will inform you of your trail options based on your timeframe and the degree of difficulty of the trail, then provide you with driving directions to the trail of your choice. Be sure to get your official park brochure and trail maps while there because you may not make it back by 5:00 pm.
Travel time through the park is at least 30 minutes to 4 hours, though the average visit is 1-2 hours. Time spent in reconnaissance is never wasted and this rings true at Rinconada Canyon & The Petroglyph National Monument.
Historical reading and even experienced, passionate tour guides can enhance any visit by revealing the magical tales that underpin the fascinating history you'll encounter. Nevertheless, this is an essential element of any visit to the state of New Mexico!